COPRA

®

RF Interface for SOLIDWORKS  
data M Sheet Metal Solutions GmbH
COPRA RF allows the designer to design simple as well as highly complex open or closed profiles, tubes, trapezoidal sections or drawing rings in a professional way.
COPRA RF WireRolling & COPRA FEA RF WireRolling software supports the entire process chain of massive wire rolling – from the development of the individual wire forming stages to simulation of the metal forming process.
COPRA FEA RF is used to simulate the roll forming operation by non-linear elastoplastic calculation. The COPRA RF design data can be automatically converted to a 3D SOLIDWORKS model via an interface.
A "real" 3D model is transferred, which means no intelligence will be lost on the way. Changes in the COPRA RF project will be automatically updated in the SOLIDWORKS project.
Whole Process Chain of Roll Forming
Modular Software Structure
Available in 10 languages
The COPRA RollScanner not only ensures constant high product quality at low cost. Moreover, itis the entry point towards a fully integrated roll management solution. Together with our rolldatabase COPRA RLM, you exploit the full potential of your tool stock and keep track of the wearout of your roll tools. After every scan, the contour parameters will be stored in the database and available for further use.
Production Process Optimisation – Fast and high precision quality control
Depending on operating time and product, rolls tools are always subject to varying degrees of material attrition. By regular scans of roll contours, costly problems with tolerances can be prevented beforehandbecause the necessary roll tools can be replaced or reworked in time.
Regardless of whether you compare two rolls or store entire roll sets in the database: COPRA RollScanner satisfies all requirements for a high-precision, optical measurement system for quality assurance.The contours of roll tools are completely measured and so the correct shapes of the acting surfaces can be reliably assessed. The best part: No Teach-In process or other programming is required. The COPRA RollScanner automatically follows the outer contour of the rolls and determines a vectorized poly-line. The scanning process usually takes less than one minute.
Due to COPRA workflow integration, the COPRA RollScanner is also suitable for extracting reshaping conceptsout of existing roll sets. The scanned roll countours can easily be assembled with COPRA RF, whereby the strategycan be retraced. The design can of course subsequently be verified and optimised with COPRA FEA RF.
Our innovative COPRA ProfileScan Desktop is the ideal device for quality management of roll formed profiles. By contactless and non-destructive measurement with only one camera, it is particularly cost-effective and able to measure the whole visible cross section.
Laser Light-Section Principle
Mainly optical profile scanners are used in quality management of profiles. There are a variety of measurement principles for different tasks.
Besides the mere technical requirements, cost effectiveness plays a major role. In general, the advantage of optical compared to tactile devices increases with the number of attributes to be measured.
With the so called Laser Light-Section Principle, a laser line is being projected on the profile, thus a Light Section is pictured. The sensor captures it and by means of triangulation, a 3D-cross section can be calculated.
COPRA ProfileScan Desktop – precise and cost-effective cross section measurement
Two steps are necessary for the measurement of the profile surface. First, it needs to be digitalised, so the data can be processed afterwards.
Usually, optical devices are equipped with a sensor ring consisting of a variety of cameras. The CPS however works with our patented and award-winning 360° method which allows mapping of the whole visible cross section with only one sensor and a turntable. Due to this setup, a simple and cost effective measurement is provided. The device can be easily integrated into the production process.
Reference Markers are being scanned along with the profile itself during the measurement process. After a complete turn of the profile, the integrated software then gauges all views to a single profile contour. The required algorithms are specifically tailored to roll formed sections.
Additionally, our method offers new possibilities for the measuring of profiles with slots. Although products are always scanned from the outside, the CPS allows mapping of large inside areas through small slots in the profile.
Furthermore, the contactless and non-destructive procedure is particularly suitable for sensitive and easily deformable materials.
COPRA ProfileScan – maximum flexibilty with 360° measuring method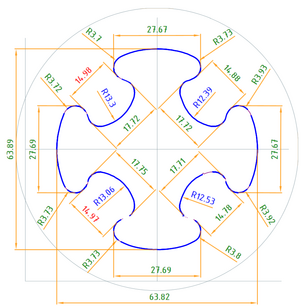 The device is able to scan open and closed profiles from the outside, weather they consist of steel, aluminium, wood, or plastic. The special purpose camera has a high dynamic range, so that a variety of different profile surfaces can be measured.
The COPRA Profile Scan Desktop 80 can measure profiles with a maximum width of 80mm and length of 310mm. The CPS 200 is equipped with a double sensor and thus able to scan cross sections with a maximum width of 200 mm (length 760 mm).
Fast – precise – cost effective: The COPRA ProfileScan Desktop
Only one (double-)sensor for 360° measuring.
The CPS can be used on a Desktop.
Many possible views compared to a system with three to six sensors.
Even small slots in the profile allow measurement of large inner areas.
Contactless. Tactile measurements of profiles usually impossible.
Non-destructive measurement of profile cross sections: short sectionsup to 310mm can be used without cutting.
Premium robust sensor cabinet.
The CPS can be quickly assembled/disassembled. Comes with a transportcase.
Direct connection to Laptop or desktop PC. No separate controller orexternal power supply required.
Measuring functions can configured individually.
Documentation of scanned results.
COPRA RF has been global market leader in the field of roll forming software. That is not only because we make the design process as effective as possible for producers, but also our employees constantly advance our solutions and acommodate ever changing demands from the industry.
Since modern roll formed products go through extremely long lines with additional steps like welding, embossing, bending or also Inline measurements. This means tough requirements for solutions that are merely met with good software alone. COPRA RF comprises all the experience of our long-serving employees that are not only software devolopers or engineers, but rather genuine roll forming experts.
COPRA RF covers the whole roll forming process chain and provides tailor-made software solutions for tube makers and profile manufacturers alike. It is integrated in the COPRA workflow and thus allows unlimted possibilities for process optimzation. Therefore, you can successfully conduct a simple roll tool design as well es the implementation of a complex roll forming line.
COPRA RF for Open and Closed Sections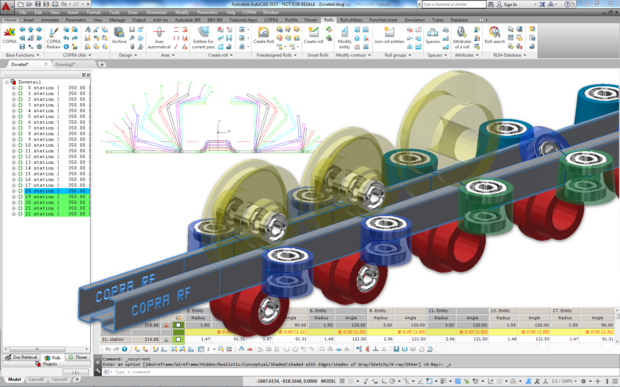 We have been adjusting our CAD software COPRA RF for many years to the needs of rollforming manufacturers. It is suitable for both simple and complex as well as open and closed rollformed cross sections. Using additional modules like COPRA RF Roll Design allows to cover the entire rollforming process chain.
Requirements for an efficient software for CAD and flat pattern calculation exceed by far what basic functions for the design of simple cross sections and rolls can offer. The production of complex profiles with ever decreasing material thickness and numerous pre- and post-processing manufacturing steps requires a software fulfilling these demands and that is, in addition, integrated into an intelligent and cross-linked workflow, covering design, simulation as well as administration/management.
Therefore COPRA RF Sections is the ideal solution for the design and calculation of flat patterns for open and closed rollformed cross sections of all kinds. Our software offers several convenient possibilities for the design of final cross sections and furthermore provides tailor-made solutions for the parametric design of flower patterns in table form (COPRA RF Spreadsheet). There are additional add-ons for trapezoidal and currogated sheet metal (COPRA RF Trapeze/Corrugated) and the analysis and optimization of the flower pattern (COPRA RF Flower Technology, COPRA RF FTM). This allows the reliable determination of important factors like theoretical spring-back, the optimal path for the sheet edge between forming stands and also longitudinal stretching.
Efficient rollforming process with COPRA RF Tubes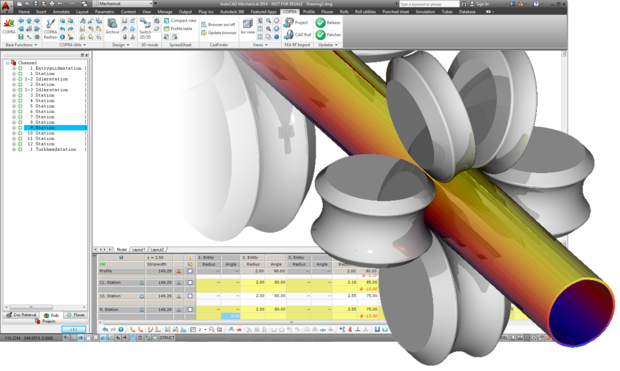 Successful tube projects crucially depend on an optimized rollforming strategy. COPRA RF Tubescontains numerous predefined strategies that only need to be adapted by your designers to your company'sspecifications. COPRA RF Tubes significantly simplifies this process.The best part: This provides maximum flexibility in the design of the flower pattern. For example, the integrated calculation routines allow the determination of angles and radii based on the provided knife width. Furthermore, it is possible to define tolerances tailor-made for your processesand machine specifications. Additionally, common stand types are already included in COPRA RF Tubes.
COPRA RF Tubes comes with an integrated browser, aiding designers in navigating between individual, automatically labelled rollforming stations. Particularly complex tube production can otherwise quickly become very confusing.It is straightforward to define an arbitrary number of variations of the required round or rectangular tubes. COPRA RF Tubes automatically adapts the contours of the rolls to a changing material thickness. Each variation corresponds to its own project and can thus be prepared for a finiteelement simulation at any time. On top, for many years COPRA RF Tubes has been and still is the only software available worldwide able to reliably determine the ideal path of the sheet edge insidethe rollforming line (Down-Hill-Forming) using its award-winning (International Tube Association) optimization algorithm. This enables tube forming with minimized stresses.
Furthermore, COPRA RF Tubes contains numerous additional features. This includes the calculationof intermediate steps for drawing rings (COPRA RF Drawing Dies), cage forming (COPRA RF CageForming) orthe analysis tool COPRA RF DTM that allows reliable evaluations of project feasibility, evenwithout an FEA simulation.
Features suitable for shaped tubes are also provided: COPRA RF Shaped Tubes calculates the forming of round and shaped tubes based only on the number of forming steps. In turn, COPRA RF automatically calculates and optimizes the individual calibration steps for the subsequent roll design. Two different mathematical methods for the distribution of compression are provided. These allow better control of so called undercuts.
Predefined and adjustable forming strategies
Integrated management tool for projects and documents (CADFinder)
Various functions for optimization of forming process
Suitable for design of round- and rectangular tubes as well as shaped tubes
Tailor-made parametric for the design of roll tools
automatic flower design
COPRA® FEA RF is the world leading software solution for the simulation of Roll Forming processes. The program calculates the entire process including pre and post operations and screens for possible design errors. Through the intelligent interconnectedness of our COPRA® products, simulation results will be available for design review immediately.
COPRA® FEA RF as a fundamental element
of the process chain
The consistently enhanced user interface allows your designers to navigate naturally though the forming stations. After output of the simulation results, the respective positions of the relevant cross sections will be identified by "Roll-Planes" and compared to the
required cross section. You can of course export the data for further use with other CAD programs. Your designers will then be able to test new roll tools or complete sets for the effects on the manufacturing
process. Like all COPRA® products, the simulation methods are tailored to the roll forming process – and for highest efficiency.

COPRA® FEA RF not only simulates the roll formingprocess, but is furthermore able to calculate all common pre and post-operational manufacturing steps including stretch-bending. For this, you can use the extended import functions and import new formats like STEP and SAT. The software is thus a central part of our integrated solution concept for roll formers.
Repeated verification through FEA simulation is inevitable for subsequent calculations. Particularly stresses and tensions caused by roll forming influence the calculation results significantly. In case of a car bumper for instance, all process steps will be simulated reliably, so that the roll set can be adjusted quickly and easily as required.
Keep track even of large stocks by intelligent roll management features with COPRA® RLM. Save time and expenses through flexible reusing of discarded rolls. The new feature SmartSearch allows a fully automatic real-time search during the design process.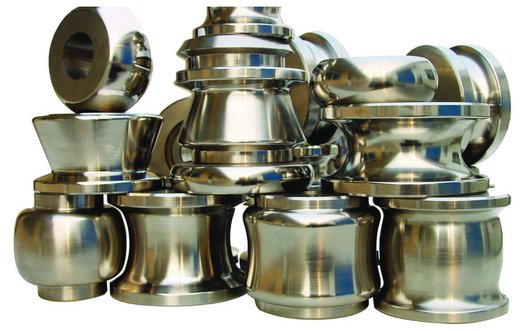 Manage large roll stockings easily and quickly.
Nowadays, roll formers face the problem of having to stock and manage large amounts of roll tool sets. As many rolls are needed for the production of new profiles, manufacturers frequently encounter delays due to time consuming manual search of the required rolls.
With intelligent stock management, bottlenecks will be avoided and suitable roll sets can be composed by the data base.
COPRA® RLM allows searching of the inventory by means of definable categories and thus facilitates finding the required rolls quickly. The software is based on Microsoft SQL Server. Rolls can be returned and further processed to design through full integration into the COPRA® workflow.
COPRA WireRolling software is tailor-made for roll forming of wire profiles. The integrated solution includes both the design module COPRA RF WireRolling as well as the simulation software COPRA FEA RF WireRolling for verification of your wire projects. With our solution, you can optimise the forming process or single roll tools as early as during the design stage.
Demand for complex profile wires rising
Demand for complex profile wires with ever decreasing cross sections (100 mm2 and smaller) has been rising for years, with all technical and logistic challenges for producers. Profile wires are mostly manufactured out of round or rectangular wires and incrementally formed by drawing dies or wire rollers. Thus, only the initial and final shape of the wire is known at the start of the project. But the more complex a product gets, there more material alterations will be a problem. COPRA FEA RF WireRolling simulates these changes reliably and quickly so that your designers can optimise the forming process beforehand. Time and cost intensive trial-and-error procedures while implementing and equipping the roll forming line can thus be prevented.
Efficient design for your wire projects
COPRA RF WireRolling relieves your designers by taking away a lot of time consuming tasks. The software can determine the form of the reshaping stations with specifically developed algorithms – only the definition of the initial and final cross section is required. Additionally, COPRA RF WireRolling calculates the forming station by inserting the count as well as the diameter of the wire.
Optimising production process with COPRA WireRolling
Without previous verification of the design, the line needs to be equipped and implemented. In a worst-case scenario, the project is not even feasible. Even experienced roll forming engineers won't be able to take all factors into account with complex profiles, resulting in time consuming attempts and constant adjustments of roll design or forming strategy.
Any modification can of course be simulated and thus verified at any time. Based on the roll contours as well as the defined cross sections, COPRA FEA RF calculates material behavior during the roll forming process quickly and accurately. The designer only needs to insert mechanical properties. By simulating the process, you can also determine the optimal roll speed to prevent the wire of bulging.
As with all our FE simulation solutions, the software generates a model automatically and conducts a roll forming specific analysis. There is no need for a dedicated FEA specialist. COPRA FEA RF calculates the required flow curve based on the mechanical material properties. Therefore it can be determined if the material becomes brittle and the wire is thus easily cracking before the actual implementation of the roll forming line.
Automatic calculation of stations through definition of wire diameter as well as number of stations
Effective design features for customized roll tool design
Interactive definition of rolling stages
Reduce cost, ensure product quality: COPRA RF WireRolling
With COPRA RF WireRolling, design and simulation stage literally go hand in hand. Because COPRA RF WireRolling checks the selected forming process virtually for deviations or other errors after the design of the roll tools.
Automatic preparation of the FE model from existing COPRA designs
Calculation of forming forces and distribution of shaping tasks among each station
Tools for analysis and interpretation of simulation results – no FEA specialist needed
Dynamic animation of reshaping process
Interested in learning more about COPRA RF?